Brisbane Diploma December Graduates 2018
Suz – My highlight was thew knowledgeable lecturers with real-world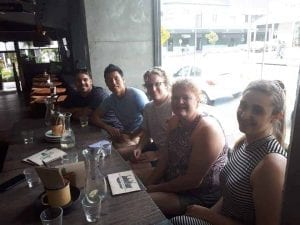 experience who were happy to answer questions and assist you always.
Ryan – Great Course coaches and learning process
Kat – I loved the student clinic environment. It allowed socialisation between classes, providing a shared experience and passage of knowledge. The course coaches in the clinic were very helpful and the real-life experience with the general public was challenging but incredibly beneficial for the learning.
Ben – The teachers and my classmates were all very helpful and fun to be around.
Hudson – My highlight was the interaction with classmates and course coaches, it made it really easy to relate and I felt more confident to participate during classes. The laughs and jokes were always a fun part in amongst the serious stuff.