Sunshine Coast Part time Myotherapy August 2017
Darren – Class mates were already a wealth of knowledge for me, I learned so much from them. Class was fun and main course coach (Warren)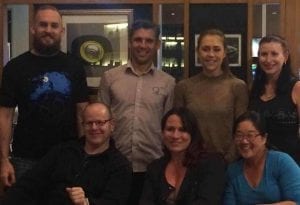 really knew his stuff. I look forward to staying in touch with classmates. Wishing you best of luck to all for the future.
Supattra – Great to find like minded people. Course materials, eg. manual handbooks, sample kits to take home. Friendly staff.
Lindsay – It was great to meet like minded individuals with a common goal and create a network of other therapists to continue to share ideas with. Warren has a great deal of knowledge and creates a comfortable & relaxed learning environment. Reference material + organisation is lacking. Assumption of knowledge is also made and clinic supervision is poor. Felt rushed at times with certain modules and not enough time was given in clinic to reinforce what was taught. Hopefully in time this will improve.
Leanne – It was a relaxed learning environment with friendly course coaches. I am looking forward to improving my business as a myotherapist.
Nicole – It was a fun learning experience and the staff your friendly. Course material could be improved upon but glad I did the course and met some lovely people.
Nick – I found the Adv diploma at Q Academy to deliver the applicable content in an informative manner with a good mix of theory and practical. It was also a pleasure to learn along side other like minded allied health professionals and the Q Academy team was a professional group dedicated to optimising the course delivery.