Gold Coast Full Time Myotherapy - July 2017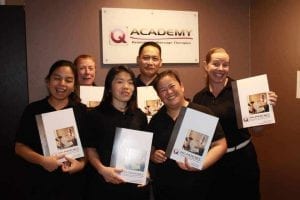 Yuko – I'm very happy to finish this course. I've learned many new + interesting things. All coaches and staff and classmates are very helpful. Thank you very much!
Benson – Thank you for you all! Good to working as a team! Thank you for the people who come to our student clinic to facilitate for our learning experience. Thank you for all the staff and coaches for the ongoing support and guidance. See you around !
Imelda – I will miss you all and the opportunity to learn from the coaches and other students. I will not miss the driving. Thank you for your consideration regarding my travel needs. I know my practise has changed forever- the movement screening exercises are a great asset. I look forward to meeting up with you all again at future workshops+ and hopefully a myotherapy support group.
Su – Thank you very much everyone. All classmates are very nice, and thanks coaches to give me knowledge. It's very good qualification. I'm Appreciated that 🙂
Fee – I wish all my colleagues success in their future endeavours in Myotheraphy. I look forward to rubbing shoulders (pardon the punt) with you all again some day. I can confidently say you are all superior myotherapists with unique + different Forte's. Blessing.
Ps – can i call you for a treatment!
Nong – Thank you so much for all staff and coaches for everything you have done and helping me get through this course. Also thanks to all the classmates for all the support and helping each other. And sharing. All the best everyone.